Brain 2 BT problem with rescue
Topic starter
08/04/2021 12:58 pm
hello i have one trex 600l dominator and i changed the control unit with one Brain 2 BT.
My model is everything set up and fly perfectly mode.
I have left the model for few months.
When i resumed my model i found some difference.
Servo aileron and elevator in reverse direction.
I attacked brain 2 BT at pc and i have upgrade software .
After upgrade software i found:
The plate type different, i found h-3 120° but my plate exact is hr-3 120°
Servo hz changed, for my servo cyclic (align bl815h) i found 200hz (before it was 165hz) , servo tail (align bl855h)  i found 333hz (before it was 280)
PS 
I had lowered hz in the past but now i set 200hz and 333hz (recommended the brain software list servo)
Now i fly with my model and now fly perfectly.
I have one problem when active autolevel + rescue, when the model takes altitude tilts of 45° of aileron to the left (seen of tail)
Is very dangerous.
Before to leave model for few months the rescue it worked well why now have this problem?
The vibrations is equal at before.
I'll show you my log vibration, You can help me?
What vibration value do to in tilt brain 2 BT?
this is my file configuration Brain 2 BT
You have already received a detailed answer on the RCDreams forum explaining the cause ("Global Vibrations" greater than 199, they reach 356 in your Flight Logs, we have sent you a screenshot of the Global Vibrations value) and also the solution (softer and spongier adhesive than the one supplied as standard if you cannot reduce the vibrations).
It was also explained to you that Auto Level and Rescue automatically reconfigure themselves with each new flight and you not only explained that you had not flown for some time and the model had been stationary for a long time so the grease and lubricants would have dried and hardened but also that you had updated your very old Software which has highlighted some of the problems with the previous configuration and you have redone some of the configurations.
We see though that you didn't like the answer and would like someone to give you a different answer. In fact, after getting our answer you asked the same thing on HeliFreak, on the Red Baron, here, etc. etc..
We are sorry but we are not in the habit of lying to our users by giving them the answer they would like to receive (there is a bug in the last firmware) just to satisfy them because it would be a false answer and false information that would lead to nothing and would not solve the real cause of the problem (vibrations).
Unfortunately we have nothing more to add.
We hope, however, that someone else can give you the answer you would like to receive. Therefore, we will no longer intervene so that others can answer you freely without being influenced from our answer.
Topic starter
09/04/2021 12:28 pm
Ok from now i'm talking about this problem only this forum ok?
I wanted a comparison with oter people with equal fes BRAIN.
Now i buy one precision balance and balancer for blade for to decrease vibration.
I decrease vibration under 199.
I've always view log vibration in mode wrong.
I read the valor that i saw in the rectangle that i colored yellow
https://1drv.ms/u/s!AlKmGfxd3G4JonFbEeFYFy9BiQfG?e=JdMU8u
The vibration principal in log my fly attual is color red (head) and principal vibration axis x (left righ) the principal problem is blade main rotor?
Why if i active autolevel and rescue my plate goes high right.
from now i post my problem only this forum
Topic starter
09/04/2021 5:44 pm
you can tell me if i can activate expo from radio? 
you can tell me if i can activate expo from radio? 
Yes, of course.
Topic starter
12/04/2021 12:01 am
I have controlled every minimal parts of my trex 600l dominator and i have lowered the vibration under 199.
Only sometimes exceeds 199 but for a short time.
The vibration now is under 199 but the problem with rescue remain.
If i active the canal aux1 dedicated at autolevel + rescue my model tilts of aileron left and squirts away in very dangerous mode.
Only you can help me, i do not know what to do.
The model is perfect, it flies perfectly only rescue is my problem.
Is a log file 
Topic starter
12/04/2021 12:49 pm
I can say a hypothesis?
When i active rescue the pitch my radio is 58% and to fast is increased pitch and in this moment the model misbehaves.
It seems to me than to the rotor a strange thing happens.
It's hard to explain.
Or is gain autolevel but i don't want to change parameter.
Otherwise i disabled rescue and i start the soul in peace
You have already been answered on HeliFreak:
"To my eye/in my experience, your vibrations are still far too high at the low frequencies, regardless of what the global vibration number is. Have you tried re-mounting the Brain with some softer/thicker tape (or at least new tape?) The tape characteristics are one thing that could change over a long period of storage. Some good pictures showing the details of your installation might be helpful too."
You can then:
a) Reduce the low-frequency vibrations.
b) Move the control unit to another position.
c) Use a softer, more spongy double-sided tape (as you were told in the first answer on 3 April on RCDreams).
Although the new vibration graph has improved over the previous one, now that you have added the 'Global Vibrations' parameter to the parameters logged during the flights, by zooming in on the graph only the part of the flight and discarding also the major initial and final vibrations, you can see at the bottom of the maximum, average and minimum values that you still have an 'average' vibration value of 213 with values up to 312 without having made particularly violent and/or fast manoeuvres and therefore with a graph with no particular peaks.
Topic starter
15/04/2021 12:27 pm
@customercare ok i'll try to install one tape biadhesive soft.
I want to get you noticed, when i resumed my model after a long time the movements of the servos they were reversed.
If i was going the pannel 5 of wizard the cursor of aileron and elevator it moved inverted.
This thing can be you helpful?
And my limit servos now they arrive max 90% with all limit radio is at max range.
Today i post you the screen
@customercare ok i'll try to install one tape biadhesive soft.

I want to get you noticed, when i resumed my model after a long time the movements of the servos they were reversed.

If i was going the pannel 5 of wizard the cursor of aileron and elevator it moved inverted.

This thing can be you helpful?

And my limit servos now they arrive max 90% with all limit radio is at max range.

Today i post you the screen
The commands arriving from the transmitter cannot in any way be reversed by the flight control unit (there is no routine that can reverse the incoming signals) but must be reversed in the transmitter.
If the commands coming from the transmitter and displayed in panel 5 are reversed, it means that they have been reversed in the transmitter setup or a different model has been loaded in the transmitter, or a model reset has been done in the transmitter, or firmware has been updated in the transmitter and the new firmware has changed the transmitter setup.
If the controls on panel 5 are reversed, the transmitter roll control and Auto Level roll control are in opposite directions of each other.
If the input controls shown on panel 5 are reversed, you can compensate for this setup error by reversing the output signals to the servos.
However, the auto level controls will operate incorrectly because the output commands to the servos will be reversed.
In short, the setup must be done correctly as explained in the instructions. It is not conceivable to think that if the setup is done backwards from what is indicated and expected, then everything will work correctly.
In the instructions, in the last panel of the wizard, it is explained to check the movement of the swashplate even with Auto Level on to make sure the swashplate moves correctly while remaining parallel to the ground. Has this been done?
However, if the Auto Level controls have been reversed because the output signals to the servos have been reversed, then activating Auto Level should cause the model to not only tilt but to completely tip over and crash to the ground. So from what has been written so far there is still something that does not match.
Regarding the 90% signal limit, have you tried increasing the dual rate value?
Topic starter
16/04/2021 12:10 pm
I want precision.
These problems there are verify after that i abandoned my model for 1 years.
Also to my friends after than they have abandoned their models have get problems simil.
The radios in particular mode change parameters for no reason.
Not any touched radio, i'm sure.
I saw the controls pre flight the pannel 14 and i saw which was not good and i have escape the crash of my model.
First all my comands they arrived at 100% in pannel 5.Dual rate i didn't touch it, but is at 100%.
The cable servo have not touched, in conclusion since it was good i have not change nothing.
I change only after have seen that there are problems.
The instructions of brain before have been executed to perfection. 
Topic starter
17/04/2021 11:13 pm
this is screen of my limit.
I have this limit also aileron, rudd.
However in this moment the pannel 8 in wizard mode, parameter cyclic 35% possibly that for tease reason my limit is max 90%.
When i do settings for first time i had all setting as the manual brain says.
Radio with shasplate 90°, all curve pitch and motor 0-25-50-75-100 ecc ecc.
Now i go in the software with all parameter set for to fly.
Dual rate my radio is 100% (max) and limit servos in my radio (spektrum dx6i) name is travel adjust and standard parameter for all 2 direction servos is 100% and i have increased at max valor 125%.
When i have fact setting brain the first time i remember that the limit in pannel 5 they arrived at 100%.
But not is one problem, the model flies very good the same.
Now for rescue i have changed tape with other tape more soft.
There is always strong wind and i can not try my model.
I hope there is nice weather the first time possible.
If i active rescue with the model helicopter on the table, the swashplate gets up straight
Topic starter
22/04/2021 9:00 am
braindev i have resolved the prolem now if i active autolevel/rescue my model get up well.
this is my log in the first two flights i have activate rescue 2 times in 3 flight i have not activated rescue.
I have attached log and log vibration,one question...the event have log or no?
https://1drv.ms/u/s!AlKmGfxd3G4Jo1VfY5lCsYLT26es?e=TDvKLE
All my problem i solved them changing the tape biadeshive buy from a shop normal.
I have increased the memory brain 2 bt at 50hz now record many more seconds.
Even if it took dozens and dozens of useless posts between those made here, those made on RCDreams, those made on HeliFreak, the most important thing is that finally what we said to do in the first answer at Easter twenty days ago has been done and the problem has been solved.
Regarding the problem with the Spektrum transmitter that was left unused for a year or more and lost its reverse channel configuration when reused, we suggest checking the batteries left in the transmitter (probably left plugged in and not disconnected). We don't know if the batteries used in the transmitter are Lipo batteries that have dropped below 3V per cell and have been permanently damaged, or NiMh or NiCd batteries that need to be charged and discharged several times to reset the memory effect of this kind of batteries, but there is a risk that the transmitter batteries will suddenly discharge during flight.
We also point out that if the model configuration in the transmitter's memory has changed unintentionally, Spektrum suggests that you delete the model and create a new one from scratch.
Regarding the files sent:
a) we reiterate that it is a useless job and just a waste of time to download the flight file from both the Recorded Logs and Vibrations windows. The files downloaded from Recorded Logs and the files downloaded from Vibrations are identical (just compare the size) and contain the same data: both data logs and vibrations.
b) The low frequency vibrations, although reduced, are still high. These low frequency vibrations are more model 'wobble' than vibration and should be visible to the eye. They could be caused by many things, but could also be caused by too much gain for the type of blades used and the type of dampers used in the head (leaving the head dampers unused for a year or more may have hardened the rubber/plastic in the dampers and perhaps not been maintained by checking and lubricating them). I suggest you try reducing the P-values of elevator and aileron by a couple of points in Setup 2 and 4 points in Setup 3, then fly for a minute from Setup 1 to Setup 2 and then to Setup 3, and then check the low-frequency vibration amplitude (oscillations) in the fligt logs while Setup 1, 2 and 3 are active to see if reducing the P-values will reduce the oscillations in the model.
Topic starter
23/04/2021 6:48 pm
sure it's as you say this is photo when i buy my helicopter.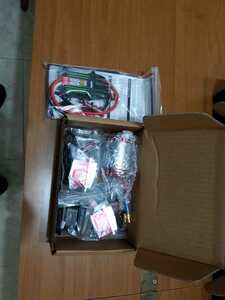 this photo have date 29/05/2015 today is 23/04/2021 and i search not to touch the model.
in date 30/12/2016 after many searches on internet, i saw one my friends with brain and i buy brain 2 bt, if i did not see my friends i would never seen brain.
All my meccanic is new (and all original i haven't changed anything) but today dumper rubber it will have to be changed.
this is manual my model
http://www.align.com.tw/ManuaLib/Heli/Helicopter/RH60E11X.pdf
So now or i try change parameter o i changed dumper rubber for to decrease vibration.
You can to see yourself this is video of the test 19/04/2021
https://1drv.ms/v/s!AlKmGfxd3G4Jo2a9H9E2IbLGHF1q?e=1jhpm8
i had to try my model and i couldn't go to the field