[Solved]

Advanced Menu - Expo Settings
Topic starter
01/09/2020 9:35 pm
Hi, in advanced menu expo pre-settings for Roll, Nick and Tail are at -20.
In my transmitter DX6e I am using D/R and expo.
Expo for Roll and Nick is set to 25% and Heck is set to 30%.
If I am adjusting expo in the transmitter, should I then set in advanced menu the values to 0 as shown in screenshot?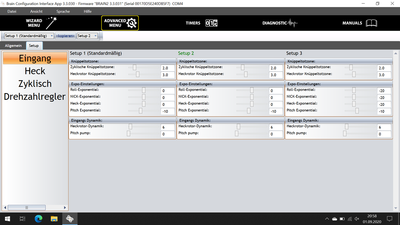 Thanks a lot in advance!
Yes, if you prefer you can set the EXPO values to zero in the control unit and use the expo values in the transmitter.
BR